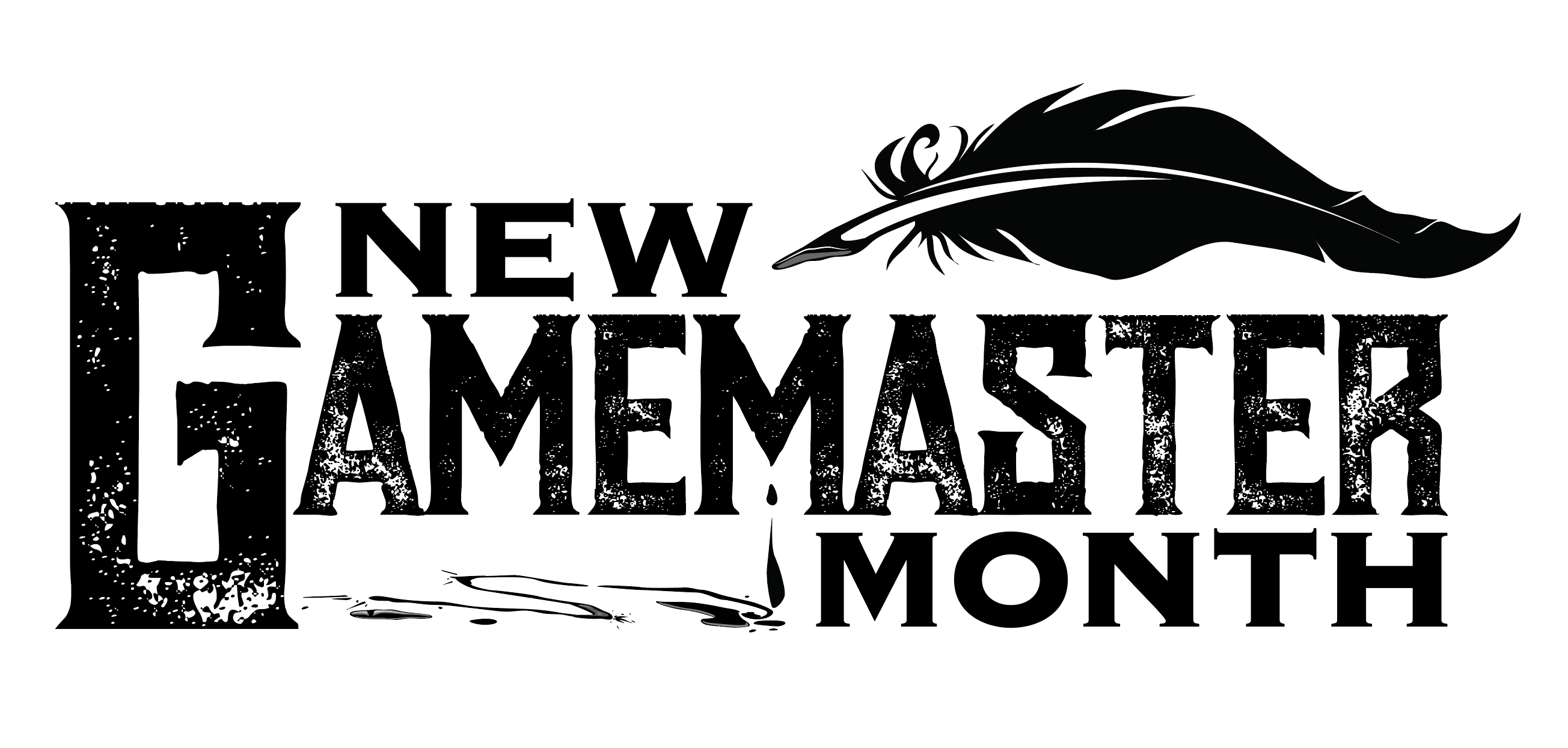 During New Gamemaster Month, we're going to give you the skills and confidence to become a GM. We'll guide you through the process of understanding the rules, the setting, and your first adventure, and by the end of it you're going to run a game—and love it!
Gamemastering. To some gamers, it seems to come naturally, but to others—longtime veterans of gaming, as well as newbies just entering the hobby—it's a bit intimidating. But running an RPG can be an incredible joy, and GMs keep our hobby thriving and growing. That's why we created New Gamemaster Month. If you've ever thought about running an RPG, but haven't taken the plunge, we have good news: Stick with us for a month, and come this time in February you'll be a real, honest-to-goodness GM. It'll be easy, and it'll be fun. We promise.
Why Run A Game?
Before we get started, though, a question: Why should you run an RPG? Well, if there is one factor that limits the spread of RPGs, it's the number of GMs. For most types of games you don't really need any specialized "equipment," just the game itself (usually), a handful of players (usually), a place to play, and in some cases a gaming platform of some sort. Tabletop RPGs are a bit different—they can't happen unless at least one person in the group steps up to take on a special role. A role that requires a bit more preparation, effort, organization, and tolerance for the spotlight. Without GMs, RPGs can't happen. As a GM, you'll be helping the RPG world in general.
But the fact that you're reading this tells me you probably already know a more important reason: It's an activity we GMs really take joy in. Heck, there's more to it than joy—it's practically a need. A creative drive. For a lot of GMs, crafting a compelling world, peopling it with interesting characters, laying out engaging conflicts and mysteries, and then revealing these to the players as they work their way through their story (and often being surprised by their contributions along the way) is incredibly fulfilling. Nothing scratches the creative itch in quite the unique way that GMing does.
You've seen that, and you feel its pull—that's why you're interested in New Gamemaster Month. That's why you want to run a game.
So What Are You Getting Into?
Putting yourself behind the proverbial GM screen seems daunting. There must be some trick to it that's not obvious, right? Some secret handed down in whispers from master to master, or an innate gift that you have or you don't? And so many pitfalls: What if the other players know the rules better than you? Or the setting? Or would do such a better job that they see right through your flailing attempts to make the adventure or campaign work?
Here's the secret to GMing: It's easy.
Really, it's easy. Once you're sitting in the GM's chair, and you've run a session or three, you'll agree. But from where you're sitting now, it's no surprise that it seems a bit intimidating. That's just jitters.
You'll need to understand how your rules work, sure, but you don't have to be the biggest expert, regardless of whether your players are all newbies or are veterans who've played the game for years. You don't have to have every nook and cranny of the setting committed to memory, either—in fact, the setting is yours to craft, and elements you interpret differently than what's in print (on purpose or by accident) make the setting your own. That's a feature, not a bug.
More important than any of those factors, though, is confidence. You need to feel that you can do it. That's the secret sauce. It's the only secret sauce.
So that's what we're going to give you over the next four weeks: skills and confidence. We'll guide you through the process of understanding the rules, the setting, and your first adventure, so you'll have the skills to run your first game. And along the way, we'll give you the confidence that you have everything you need. To top it off, we'll give you a little kick in the pants at the end, to turn that skill and confidence into an actual, live game session that you'll run and enjoy.
That's right: In four weeks, you'll be a real, live, GM.
How Will This Happen?
Here's the New Gamemaster Month plan of action: You'll find a new post, right here on newgamemastermonth.com, every Tuesday and Thursday between now and January 28th. With each post, we'll discuss the next step in your journey and give you a small activity that builds to your first GMing session. (Don't worry, it's not homework. This is fun stuff.)
As mentioned above, we'll cover rules, setting, and the adventure itself. But we'll also talk about the other elements of running a game: Stuff like wrangling players, lining up a time and place, and even laying in snacks. Everything you need to think about to get your game going and ensure it's a success.
You choose the game you want to run. Six companies are partnering in New Gamemaster Month this year, giving you the opportunity to run your choice of games:
Numenera
Unknown Armies
Trail of Cthulhu
Runequest
Monster of the Week
Delta Green
Which game should you choose? That's up to you. Experience with the game will help, but isn't necessary—the most important thing is that the game, its setting, and the adventure are all things you'll enjoy.
Regardless of your choice, we'll work from a published adventure that's friendly to newbie GMs, so we'll be able to focus this month on the act of GMing rather than the process of designing an adventure. The fundamentals are transferable, though: Once you've run your New Gamemaster Month adventure, you'll be a full-fledged GM capable of taking on other systems, building your own worlds, and crafting your own adventures, if you desire, from scratch.
All you need to do is join us twice a week, read these posts, and follow through with the activities we recommend for the game you've chosen. You'll commit a little time to the process—a few hours a week, tops—but by the end you'll be ready to run!
Running Your First Game Virtually
Even before the COVID-19 pandemic, more and more gamers were running some or all of their games virtually—and that format of play has skyrocketed, of course, over the past year. GMing a game over the internet isn't that different, fundamentally, than running an in-person game. But for many people it's less familiar, and perhaps a little more intimidating. So this year we're including advice for online GMing.
You'll find general advice here, at the bottom of each post. Additionally, some of the individual games offer advice in their specific tabs. And finally, our friends at Roll20 offer step-by-step advice you can apply to any game, should you choose to make use of their virtual tabletop (VTT) platform.
If you intend to run your game online, your first step will be to decide what platform you'll use.
A video chat platform, such as Zoom or Skype, lets you talk with and see your players clearly. Some gamers also keep Discord or Slack open during the game for threaded text conversations. Generally, players will need to maintain their own character sheets separately, and these platforms don't give you a virtual tabletop to display maps and move virtual miniatures around.
VTTs, such as Roll20, Astral, Fantasy Grounds, or Foundry, to name a few, give you a battlemap environment and the ability to display and move tokens representing characters and creatures during encounters. They also generally allow players to keep their character sheets, and do their die rolling, within the platform, and give the GM tools for managing creatures and encounters.
Which is right for you? That depends on your personal style and that of your game. Making the most of a VTT is a lot more work than running via Zoom or Skype, but you don't have to use every feature. A video platform is a lot simpler, and focuses the experience on the players rather than the tabletop, but their features are limited.
Keep these points in mind as you explore your options and make your choice. Remember that your commitment isn't long-term—go with what seems best now, and if you choose a different platform for future games, that's fine!
If you're interested in a VTT, Roll20 offers step-by-step instructions that parallel each stage of the New Gamemaster Month program. Just check the Using Roll20? tab on each New Gamemaster Month post as you also follow the program for your chosen game.
Throughout this program, we have expert GMs on hand to answer questions and provide general support at the New Gamemaster Month Discord Server or the New Gamemaster Month Facebook group. Please drop in, join the group, introduce yourself, and ask any questions you might have. Other new GMs will also be there—it's a great place to share your experiences and support one another. Hope to see you there!